Ok...I have to be honest. We are NOT big board game people around here. We love the games we just don't get them out very often. So, naturally, I am not hyped when we get games to review. However, this game is different! It is so easy to play and fast paced that we pulled it out to play even after I had enough information to review it.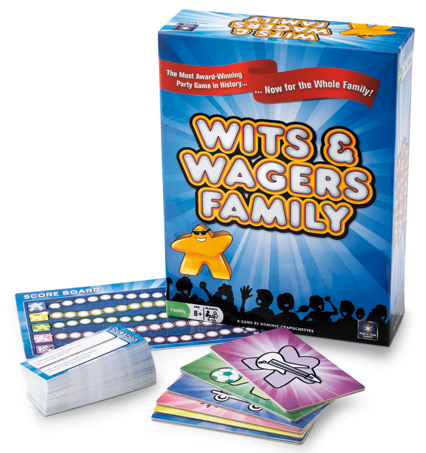 What is it?
Wits & Wagers Family by NorthStar Games. This game is so easy to play. You ask a question. Write down your best guess on a mini whiteboard. After everyone writes their guess you turn all the mini whiteboards over and put them in order from least to greatest. Then you place your "Meeples" on the mini whiteboard you think is the right answer. You have 2 "Meeples", a large one and a small one. You can put them both on one mini whiteboard or split them up. Then the answer is read. The mini whiteboard with the closest number (all answers are numbers) without going over is the correct answer. Points are awarded for the winning answer, and for each "Meeple" placed. Points are tallied on dry erase scoreboard. Winner is the first person/team to reach 15 points (which doesn't take long when you have the potential to receive 3-4 points for each question).
What is in the Box?
~150 question cards (with 2 questions per card)
~5 dry erase boards
~5 dry erase pens
~5 large Meeples
~5 small Meeples
~1 dry erase score board
~1 full color rules
Other Important Information:
~price may vary as it is available online and various realtors
~Ages 8+ (however my 5 year old had a BLAST playing as part of a team)
~3-10 players
~2 minutes to learn
~about 20 minutes to play
Other Games by NorthStar Games:
~Wits & Wagers (the original)
~Wits & Wagers expansion pack
~Say Anything (the original)
~Say Anything Family (coming very soon)
Our Thoughts:
Daddy

: "It was fun. I like that it doesn't take long to play."
Unicorn

(Age 11): "It was fun. I like that it doesn't matter if you guess the right answer."
Ladybug

(Age 5): "I like writing down the numbers Daddy tells me and putting the Meeples on the boards."
Me

: "I like that it is easy to learn, play, set-up and take-down. We don't need to plan when we are going to play this game."
Click here to read what my Crew Mates are saying about NorthStar Games.
{Disclaimer: I received Wits & Wagers Family in exchange for my honest review. I received no other compensation.}