Can I just say, "WOW!" and leave it at that? This product has been a lot of FUN to review! So,
What is it?
It is a cross between Scrabble and Rubik's Cube! It's
Scruble Cube
!
Scruble Cube
is an educational game that is played similar to Scrabble. You form words using the letters on the cube. Words can begin and end anywhere on the cube as long as they are in a straight line. You can manipulate the cube in a manner similar to a Rubik's Cube in order to form more words.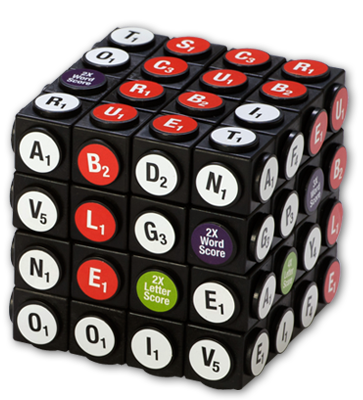 What's in the Box?
*The Cube
*Instructions
*Getting Started Guide
*Timer
*Score Pad
More Details:
*$24.95 (click here to purchase or learn more)
*Ages 8+
*1-4 Players
*Multiple Variations of Play
*Website has Lesson Plans (Language, Math, English, Spelling, Logic and Science)
*Online forum to see/share other ways to use the cube is coming soon!
*Instructions and Score Pad template are downloadable from the website.
What do we Think?
We LOVE it! Unicorn used the Scruble Cube and the Scruble Cube PDF Worksheet from the website for practice finding words, counting up the points and looking up the words in the dictionary. She really enjoyed this game and I liked that it involved dictionary skills! I like that the instructions were easy to read and that they included 2 variations. In addition, I like that the website provides additional ways to use the cube and to make it even more educational that it already is.
Unicorn using the Scruble Cube and the Worksheet
One thing I do NOT care for is that it feels fragile. I would love to let my 5 year-old try to find words but I am scared to let her touch the cube. I would be very careful allowing young children (or rambunctious ones) to use this product.
Click here to read what my Crew Mates think about the Scruble Cube!
{Disclosure: I received a the Scruble Cube in exchange for my honest review. I received no other compensation and all thoughts and opinions are my own.}