Do you plan your meals each week?
Make a shopping list?
Ever get tired of the same old meals week after week?
Wish someone would plan your meals for you and write your shopping list for you?
Guess what...e-Mealz may be your answer. For just $5 a month you e-Mealz will create a weekly menu (7 meals), recipes and a shopping list for you. Not only that...they estimate the price of each item so you will have a pretty good idea of how much you will be spending on groceries!
So, how does e-Mealz work? It is actually pretty easy:
Yep...just 1, 2, 3!
In a nutshell:
~$5/month (paid as $15 every 3 months)
~WIDE variety of meal plans (stores, dietary restrictions, number of servings, etc.)
~prints on just 2 sheets of paper (or you could save paper by printing front to back)
~recipes are included on the printout
~estimated prices included
~5 or 7 meals depending on the plan chosen (except for the weeks of Thanksgiving and Christmas when they have only 4 meals)
~login to website weekly to get new menu plan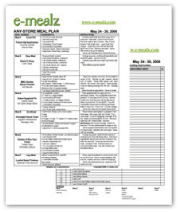 Our Thoughts:
This was a great product to review! Meals were getting a little boring around here. We were getting tired of our regular menus and hubby was getting tired of cooking the same things every week. With e-Mealz we are trying new things, eating healthier, saving money and time and hubby is enjoying cooking again! We went with the regular plan for 4-6 people. Our kids are picky eaters and probably eat the equivalent of 1 person between the 3 of them. With 7 meal options we were able to find 4-5 meals each week that our family would enjoy which is perfect as there are also a lot of left-overs for lunches and other meals during the week. Overall this is a really great product and our family is enjoying the meals and not having to think about what is for dinner every night. The ONLY thing I would like to see done is to have an email sent out each week when the new menu is posted.
I really meant to get more photos of the meals but the meals always looked and smelt so good that I would forget to grab the camera before we ate it all! :) Here are a couple photos I did manage to remember to snap! The first is German French Toast and the second is a Pepperoni Loaf.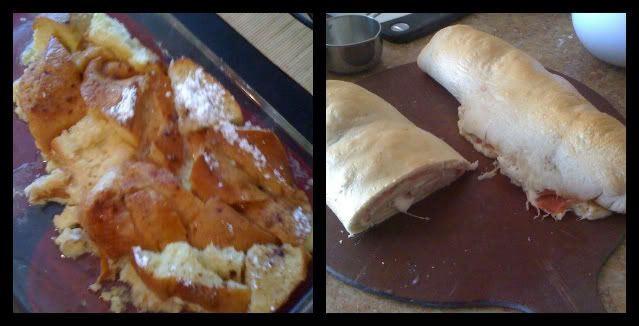 Click here to see what my Crew Mates thought of e-Mealz!
{Disclaimer: I recieved a 3-month subscription to e-Mealz in exchange for my honest opinion. No other compensation was recieved.}