Unicorn
(age 11)
LOVES
Latin. It is her favorite subject. Before we received the download version of the first 10 lessons of
Visual Latin
to review we were using another wonderful Latin program. It is great
BUT
, it is lacking a little something. It is lacking the elements that Dwane Thomas includes in
Visual Latin
.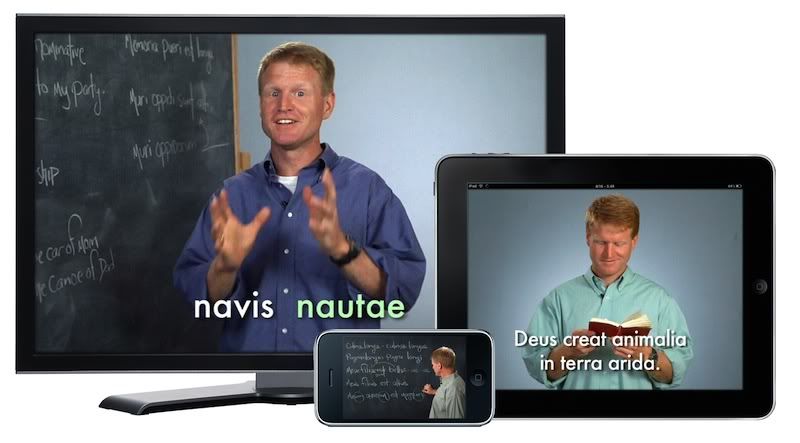 Visual Latin
is a series of SHORT videos taught by a REAL person using humor and real life to teach Latin. The videos range from 2 to 10 minutes in length. Dwane is the instructor. He is funny (no really, he is), he makes mistakes and he is honest. Students who are struggling with Latin may benefit from these key elements of
Visual Latin
. Using humor, students are set at ease. Short videos mean less boredom. What do you mean he makes mistakes?!? Just that, he is human and makes mistakes and he doesn't edit them out. He uses his mistakes to help you feel comfortable with your own mistakes. His honesty is also a great benefit. He tells you that parts of Latin are hard and that it will take a while to learn them! Again, you are put at ease that you don't have it all mastered at the end of the video!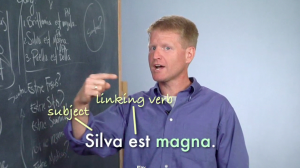 Nuts & Bolts:
*Ages 9+ (children need to be able to read)
*2 levels - Latin 1 and Latin 2 (Lessons 1-40 are currently available the remaining 41-60 are due out during the 2011-2012 school year)
*each level is 30 lessons (1 per week)
*each lesson has 3 parts (1 per day)
*worksheets included (most lessons have a worksheet to follow the video)
*available via download or DVD (downloads work on MAC and PC using iTunes as well as iPod, iPhone and iPad)
*need to supplement to count as High School credit
*
Latin 1 DVD
is currently $80 (or $30 if purchased unbundled)
*
Latin 1 Download
$75 (download 10 lessons at a time $25)
*
Latin 2 DVD $30
(lessons 31-40)
*
Latin 2 Download
$25 (lessons 31-40)
*Christian (the reading portions for the lessons reviewed are the creation story)
*Downloads are stored on
Visual Latin
website (you can download them as needed)
*Very little teacher prep (print the worksheets and then download lessons or pop in the DVD)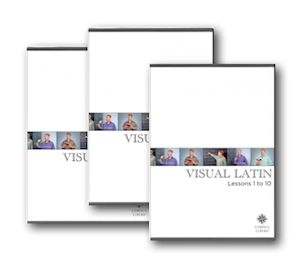 How it Works (Download Version):
Prep: Download the lesson. Print the worksheets.
Day 1: Play lesson 1 part A (grammar lesson). Do worksheet.
Day 2: Play lesson 1 part B (sentences). Do worksheet.
Day 3: Play lesson 1 part C (reading). Do worksheet.
Repeat next week with next lesson! Very easy!
Other Products:
*Online Courses
*Modern Parables
*JAM (Jesus-And-Me) Films
*Music
*more
Our Thoughts:
Unicorn

and I REALLY like it! Visual Latin would be great for the beginner, anyone preferring a "teacher" and those who learn best using a "listen/see-say-write" method. Also, if you are using a Latin curriculum that doesn't explain gender, singular/plural, etc. then Visual Latin may be a great supplement! For our family, Visual Latin filled in some holes and connected some dots for us. We now know why and when certain endings are used! We also, love Dwane's humor and that he is human (makes mistakes) just like the rest of us! We will definitely be purchasing and finishing Visual Latin!
Click here for additional reviews by my Crew Mates (including reviews of the DVD version).
{Disclaimer: I received the Downloadable Version of Lessons 1-10 of Visual Latin in exchange for my honest opinion. No other compensation was received.}