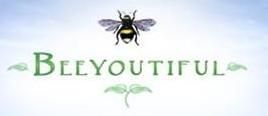 Today I get to share with you two really great products from Beeyoutiful!
First up:
B.A.L.M.
B.A.L.M. come in two "flavors": Peppermint and Orange. We were blessed to sample the Peppermint lip moisturizer. We live in the desert and it is REALLY dry this time of year. The B.A.L.M. really does keep your lips soft and moist...well, at least it would if it didn't keep running away! I am going to have to purchase a few more of these (one for each member of the family) so that I can find mine when I need it! Right now I think Unicorn has it! B.A.L.M. sells for $3 (although they discount when you buy 3).
B.A.L.M. ingredients from the Beeyoutiful website:
GrapeSeed Oil- high in antioxidants (procyanidolic oligomers and polyphenols) and linoleic acid which nourish, moisturize, naturally provide anti-inflammatory support, and help smooth fine lines and wrinkles! So instead of merely relieving your chapped lips, it is nourishing them and helping them look their best as well!
Shea Butter- also high in antioxidants, Shea Butter helps bring elasticity back to the skin, moisturizes, has natural sun protection, and helps bring healing to scars and wounds.
Beeswax- recommended by Mayo Clinic as an excellent choice for a lip balm, beeswax is high in germicidal antioxidants, possesses natural anti-inflammatory abilities, and has been shown to have antibacterial qualities. It gives body to the lip balm while providing moisture and cell restoration for your lips!
Essential Oils- (Either Orange or Peppermint Essential Oil)- Both provide refreshing flavors while providing their naturally inherent benefits to your lips! Orange is a refreshing, citrusy blast that helps to brighten your lips. Peppermint's cool, tingly flavor will bring soothing refreshment to your lips on the driest of days!
Next up:
Milk & Honey Facial Bar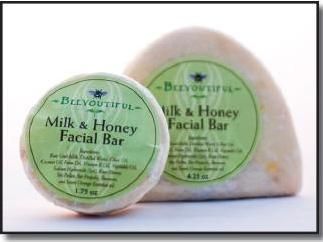 This product is also great.

Unicorn

is just about to turn 12 (next week) and has been having a bit of tween trouble with the skin on her face. She had a patch of dry skin surrounded by oily skin. After just a couple days of washing her face with the Milk & Honey Facial Bar the dry patch is gone and her face is soft and smooth. There is not an oily or dry patch to be found.

Unicorn

really loves this "soap"! In fact, she keeps it in the shower to remind herself to use it daily! The 4.25 oz bar is $10 (less if you buy 3, 6, or 12 bars)!
Milk & Honey Facial Bar product description from the Beeyoutiful website:
Two natural treasures in one bar of soap help repair sores, fight acne, soothe chapping, and balance uneven or oily skin. Bee products—honey, propolis, pollen and wax—meet goat milk to clean up the toughest skin problems you can muster.

Honey cleanses dirt and impurities while smoothing wrinkles by increasing your skin's elasticity. Propolis—a mixture of the essential oils, pollen, and wax bees harvest from plants—nourishes dry, itchy skin. Pollen, rich in enzymes and vitamins, contains the complete family of amino acids. It promotes new skin cell growth while scrubbing away built-up dead cells without stripping the skin of its natural protection. Milk & Honey's beeswax base is the all-natural "carrier" for other ingredients that leaves your skin feeling soft and clean.

Raw goat milk is rich in enzymes beneficial to your skin, and five natural, skin-replenishing oils balance and moisturize. This abundance of revitalizing components is topped off with a touch of sweet orange essential oil for an agreeable, bright aroma.

Beeyoutiful's Milk & Honey Facial Bar is now available in two handy sizes! The small bar (1.75 oz) is just the size for your bathroom sink or for travel, and to indulge your whole body, the large bar (4.25 oz) is great company for a bath or shower.

Ingredients: Raw Goat Milk, Distilled Water, Olive Oil, Coconut Oil, Palm Oil, Vitamin E Oil, Vegetable Oil, Sodium Hydroxide (lye), Raw Honey, Bee Pollen, Bee Propolis, Beeswax, Sweet Orange Essential Oil

Manufactured in the USA.

Click here to see the many other Beeyoutiful products available!
Click here to read what my Crew Mates think of these and other Beeyoutiful products.
{Disclaimer: I received these two Beeyoutiful products in exchange for my honest review. I received no other compensation and all opinions are my own.}