As a former public school teacher I have very strong opinions on what is the best way to teach reading. I have been searching for a "program" that is easy too use, not time consuming and teaches phonics including the phonics rules. All About Reading does all of this...and more! I was given the opportunity to review All About Reading Level 1 and Deluxe Reading Kit from All About Learning Press with

Ladybug

(she is 5 and 1/2).
Level 1 $107.70 $99.95
~Teacher's Manual
~Student Packet (flash cards and Activity book)
~3 (three) Readers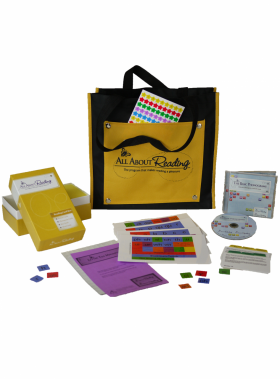 Deluxe Reading Kit $48.95
~Letter Tiles*
~Magnets*
~Basic Phonograms CD-Rom*
~Reading Divider Cards*
~Reading Card box
~Tote Bag
~Star Stickers
*Basic Kit ($28.95)
PROS
~Comprehensive
~Easy to use (scripted)
~Very little prep time
~Lessons are short
~Review is incorporated
~Flexible
~Multi-sensory
~Multiple kit options (to keep costs down)
~Only need to purchase additional Student Activity book to use with more children ($16.95)
~Low cost AFTER initial start-up costs
~Lots of Support (Articles, Blog, Forum, Contact)
~1 Full Year Money back Guarantee
CONS
~CAN be expensive to start-up
Other Products
~All About Reading Pre-Level 1
~All About Reading Level 2 Readers (complete level 2 coming out THIS year)
~All About Spelling Levels 1-6
~All About Homophones
~Games
Our Thoughts
I am really impressed. In fact I was so impressed, that I bought All About Spelling Level 1 to use with

Ladybug

and All About Reading Pre-Level 1 to use with

Monkey

. I like that lessons are scripted but that I can go through something quickly if the content is already mastered. I especially like that the letter tiles are the same for both All About Reading and All About Spelling so once the basic or deluxe kit is purchased you can purchase the rest of the items that you need (the dividers and storage boxes) a la cart! Finally, I also like that for each additional child that uses the program only the student activity book is needed! Ladybug enjoys the program as well. She really likes the readers!
Note: These photos are of Ladybug doing the All About Spelling Level 1...
it is really hard to take pictures of us doing All About Reading!
Click here to read what my Crew Mates think of All About Reading!
{Disclaimer: I received All About Reading Level 1 and the Deluxe Kit in exchange for my honest review. I received no other compensation and all opinions are my own.}