*Note: The Ooka Island website is PACKED full of information and videos. Please click all the links in this post to truly SEE what Ooka Island is all about!
What is Ooka Island?
From the website:
The Ooka Island Adventure is a downloadable hero-mission in 3D designed to teach young children how to read fluently and well. The Ooka Island Adventure combines the highly engaging components of a state-of-the-art virtual world with the scientifically proven OokaMethod that builds literacy skills.

Carefully embedded within the Ooka Island Adventure are dozens of interactive

instructional activities

that captivate the child and motivate them as they learn essential pre-reading, reading, spelling, and writing skills. After completing the Ooka Island Adventure, children will be on their way to reading fluently and well for life.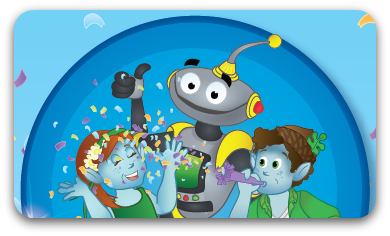 In a Nutshell:
~Download and Install Game (high-speed required)
~Internet required for play
~Ages Pre-Kindergarten - 2nd grade (could be used for older children for remediation)
~Earn Ooka Mist (currency) to purchase goodies for the Pencil Playground
~85 leveled books
~Customize your Avatar
~First, follow Zobot around the Island (guided learning-20 minutes). Next, Enter the Popcorn Library. Then, Explore the island (free play-8 minutes). Repeat until the entire program is complete.
~The Cave of Sounds: Auditory recognition of sounds, letter-sound correspondence, identify initial and final consonants in words
~Popcorn Library: Reading comprehension and fluency skills
~Alphabet Mountain: Identifying and sequencing lower and uppercase letters
~Bubbly Trubbly: Letter-sound correspondence
~Cake Factory: Letter-sound correspondence, segmenting, blending and decoding
~Submarine Listening: Identifying vowel in initial, medial and final positions
~Word Ball: Auditory discrimination between syllables and words, decoding
~Pencil Playground: Social/emotional play-based learning
~Clumsy Wacky Moving Company: Blending onset and rime, blending sounds into words, rhyming
Pros:
~Fully interactive with bright friendly colors and characters
~Comprehensive (I am a former Reading Coach and Ooka Island covers it all)
~Reasonably priced (see pricing scale below)
~

Ladybug

loves it!
Cons:
~Very large file to download (over 2GB~at least you only download it once)
~Very new game and they are still working out the unavoidable "bugs"
~Parent Reports not available YET (*updated 12/1/11 - the Parent Reports are now active)
Pricing:
I HIGHLY recommend reading the FAQ's for Ooka Island and to download the Guidebook.
Both are extremely helpful resources!
Click here to read what my Crew Mates think of Ooka Island!
{Disclaimer: I received a 6 month subscription to Ooka Island in exchange for my honest opinion. I received no other compensation and all opinions are my own.}