In a Nutshell:
~$24.95
~240 pages
~29 activities
~Grade 3
~Paperback book
~Includes a CD (to make printing easy)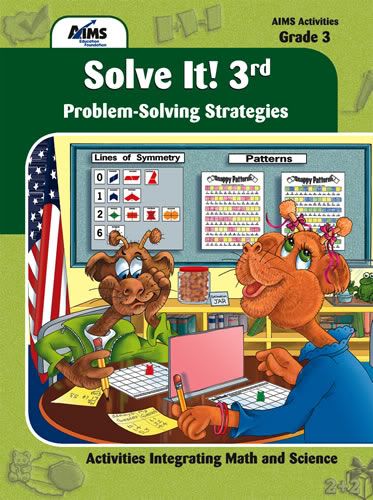 From the AIMS Website:
Solve It! 3rd: Problem-Solving Strategies addresses:
• use manipulatives,
• write a number sentence,
• draw out the problem,
• guess and check,
• organize the information,
• look for patterns,
• use logical thinking,
• work backwards, and
• wish for an easier problem.
A Little Background:
Yes,

Unicorn

is 11 and in the "6th" grade, however, one of the reasons we pulled her out of public school is because she was about 3 years behind in math (we pulled her at the end of her 4th grade year and her math skills were at about a 1st-2nd grade level). She is making great gains but is still lacking. That is why I practically begged to do this review! She has always struggled with word problems and this seemed like a fun answer to our prayers.
Our Experience:
Since we received the book,

Unicorn

has completed 15 of the 29 activities. She has discovered how using manipulatives, writing a number sentence, drawing a picture, guessing and checking, organizing information (charts, etc.) and looking for patterns can help her solve problems. Over the next few weeks we will finish the book! Why? 1. She is understanding the concepts, 2. She is needing very little help from me (after I give her directions) and 3. There are NO TEARS!
Unicorn working on a Sudoku Pattern
A Little More Detail:
~The book is divided into 11 sections (an introduction, a section for each strategy, and practice problems).
~There is a detailed lesson plan for each activity.
~Each activity contains one or more word problems, key question, learning goals, a materials list, use of one or more problem-solving strategies, background information, procedure, questions to connect learning, and extension activities.
~The graphics are geared for 3rd graders.
~Is geared for the classroom setting but is easily adaptable to homeschooling (except for the group activities).
~68 practice problems (in the back of the book) to reinforce skills after all strategies are taught.
My favorite things:
~No Tears :)
~CD to make printing activities easy and reusable
~Easy to follow lesson plans
~Little preparation required
~The special Homeschool Section of the Website
Other Thoughts:
~Since manipulative are used you may need to purchase or make some items (balance, counting bears, tangrams, unifix cubes, etc.).
~If you don't have more than 1 student at the 3rd grade level you may have to get creative to do some of the activities.
~I would recommend this product for an advanced 2nd graders and other students at the 3rd-4th grade level or students who struggle with solving problems. Just keep in mind the maturity of your student and that the graphics are geared for the average 7-10 year old.
Other Products:
There are too many to list individually so click the topics to go to their site and look around!
~Science Curriculum (even some state-specific)
~Math & Science Activity Books (Including the Solve It! Series)
~Essential Math Series
~Manipulatives (for both Math and Science)
~Literature Links
Click here to see what my Crew Mates thought of this and other AIMS products!
{Disclosure: I received a copy of Solve It! 3rd Problem-Solving Strategies in exchange for my honest review. I received no other compensation and all thoughts and opinions are my own.}