Today we are reviewing CapJaxMathFax.
CapJaxMathFax is a quick and easy way to learn (and track) Math Facts without the use of flashcards.

The hardest part of using CapJaxMathFax was the download/install/run process! However, Captain Jack has EXCELLENT customer service and helped us get up and running very quickly!
Below you see a screenshot of CapJaxMathFax. This screenshot shows you what the "Play for Rating" screen looks like. Basically you enter your name, select add, subtract, multiply or divide and check play for rating. When you follow these steps you will see the summary chart on the side with the mastery rating. Along the top you will see how many facts were answered and how many were at the Super (less than 3 seconds) level and the average time (in seconds) it took to answer the fact. When played in this mode the scores are tracked and able to be viewed in the Desktop Folder by the parent.
A student can also play in practice mode. In practice mode the scores are not tracked but the student has more flexibility in the selection of the level, number of facts in a set and how many seconds they want to be in Super Seconds.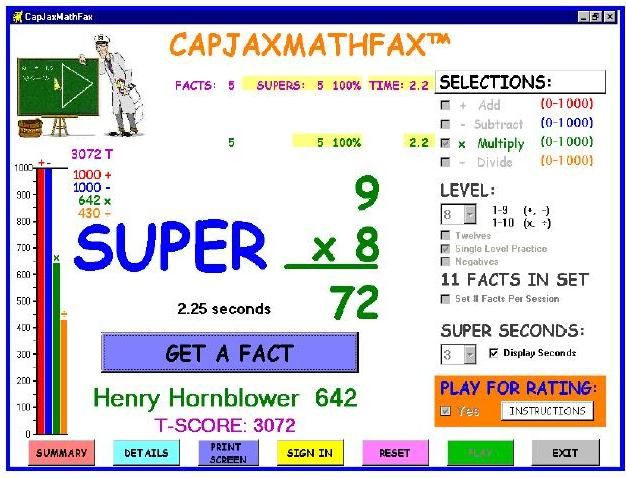 In a Nutshell
~Age: 6+
~$29.95/year
~Available as a download or CD-Rom (additional $5.95)
~Merit Badges available for extra reinforcement $4
Our Thoughts
While Ladybug could have used this product (and probably will soon), Unicorn is the one who REALLY needs work on her basic math facts. She has enjoyed using this program and it is helping her to learn her facts. One thing I would like to see is an option for the parent (or teacher) to be able to adjust the Super Seconds. Unicorn has some difficulties with seeing the question, figuring out the answer, and then typing the answer all in 3 seconds. I would love to be able to give her 5 seconds for this. This feature would also make the product easier to use with younger children. With Ladybug she will tell me the answer and I will type it for her so she doesn't have to locate the numbers on the keyboard as well.
Click here to see what my Crew Mates are saying about this product.
{Disclaimer: I received a subscription for this product in exchange for an honest review. I received no other compensation and all opinions are my own.}